You'll agree with us that sometimes running and sustaining a business can be a tedious task, even for the best ones in the field. Small and medium-sized business owners often struggle to keep up with many tasks that make up their businesses; while still trying to establish deeper customer experiences. Sadly, communicating efficiently with their team and clients is one challenge they face daily in their businesses. I'm sure you can relate to this.
Thanks to technological advancements, which have given rise to cloud communication solutions and tools, communicating with your team or clients is less hectic. We know that effective business communications go a long way to guarantee customer satisfaction and retention. Thankfully, today, you can improve your customer's experience, coordinate your team, and stay productive with the right communication tool.
In this article, we will compare two cloud communications platforms—Broadvoice vs Vonage—stating all you need to know about them, including their features, integrations, pricing, ease of use, and reviews from users.
Let's get into it, shall we?
What is Broadvoice?
Broadvoice Cloud PBX software is a private-owned cloud communication company with a mission to "inspire meaningful human connections" between business owners and their team or clients. They provide cloud-based Voice over Internet Protocol (VoIP) telecommunications services that enable you to make or receive voice or video calls through an app on your mobile devices or via a broadband internet connection.
Acquired by PhonePower in 2012, Broadvoice offers cloud-based telephone services to business owners. They aim to personalize the way you communicate so you can stay connected with your team or clients, regardless of your location.
This business phone system eliminates the need for hard-wired landlines and gives you the flexibility you need to continue your operations from anywhere, with little or no interruptions. How cool is that?
Broadvoice Cloud PBX provides different products, including:
Phone systems
Video conferencing and collaboration
SIP trunking
Business texting
Contact center management
Microsoft Teams integration
Salesforce integrations
Hardware (like desk phones and other devices)
Several small and medium-sized businesses—even enterprises—across different industries in the United States currently use Broadvoice, because it provides different features and third-party integrations suitable for their business needs. Broadvoice has different paid packages, depending on your budget and the size of your business.
Not to worry, we will go into details much later in this article.
What is Vonage?
Vonage Holdings Corporations is a publicly held clouds communications provider headquartered in New Jersey. What started as a consumer-focused VoIP service provider in 2001 and has since grown to become a B2B communication solutions provider, establishing itself strong amongst other Vonage alternatives.
Today, Vonage provides:
Communications APIs – programmable messaging, voice, video conferencing, and more.
Unified communications as a service (UCaaS) – business phone system and flexible communications across platforms.
Contact center management tools and services – CRM integrations across different channels.

They offer these and additional features to small and medium businesses—even bigger enterprises—across various sectors in the United States, Europe, and Asia.
Comparison methodology
Here, we will use different parameters to compare both tools objectively. We aim to give you our expert opinion and all the details you need so you can make well-informed purchase decisions.
The parameters we will use for this comprehensive comparison include:
Ease of use: We'll compare how seamless or difficult it is to install and navigate both software, highlighting how organized they are on their website and mobile apps.

Features: We'll highlight the features they offer and how suitable they are for your business.

Integration: We'll share comprehensive software listings of their combined tools to give you a memorable user experience.

Pricing: We'll share the plans or packages they have for businesses, so you can explore the one that best suits your budget while still giving you the benefits of a business phone system.

Customer support: You probably want to know how easy it is to get help when you get stuck or encounter any challenge on either software, so we'll tell you all the help channels available at your disposal.

User reviews: What better way to decide on which business communications software to use than hearing from those who currently use, or have used, the software in the past? We'll tell you what people are saying about these platforms.

We are sure you can't wait to dive in, so let's get right into the business for the day!
Broadvoice vs Vonage: ease of use
A business phone system or VoIP provider is only as good as how well it serves its customers. A software provider can have all the fantastic features in the world, but if you (the user) cannot work your way through the app with ease, then it becomes useless to you. Right?
In the same way, we compared both Broadvoice and Vonage Business Communications based on how easy it is to download, set up, and navigate. Thankfully, both software are easy to install and set up on mobile and desktop devices. You can download both apps on Google Play Store for Android devices and Apple App Store for iOS devices.
Before you create an account, it will prompt you to fill out a form on the website; that tells them more about what you hope to achieve with the app. This helps them draw out the perfect plan for you, based on the needs of your business.
They both offer an easy-to-navigate interface that is well organized. You don't need to be tech-savvy to navigate the app on your mobile device and desktop.
Broadvoice vs Vonage: features
We can equate features to the 'bedrock' of any software because we are most inclined to stick with the applications that provide more features to suit our needs. This is true for both small businesses and even large businesses.
We can say that both software offer a variety of features suitable for your business. They both offer basic features like video conferencing, call recording, call forwarding, conference calls, unlimited international calling, call queuing, call routing, call monitoring, call center management, and many more.
Both plans also have team collaboration features that allow you to communicate with your employees or colleagues in peace.
Note that the features you can access on both platforms depend on the plan you pay for.
Broadvoice vs Vonage: integration
Integrating other useful software into an application is one way to give you the best of different worlds with ease. We can say that integrations make the world go round! This also applies to business phone systems or solutions; today, we see many developers investing in third-party integrations to give you the best experience.
Vonage takes the lead regarding integrations, as it offers more integrations than Broadvoice. They both have Salesforce and Microsoft Teams integrations in common. Note that most of these integrations are only accessible in some paid plans.
Let's look at a list of the integrations they both offer.
Broadvoice integrations:
Microsoft Teams
Salesforce
Vonage integrations
Microsoft Teams
Salesforce
Microsoft 365
Slack
Zoho CRM
G Suite
Microsoft Dynamics
Clio
Prodoscore
Hubspot
Zapier
JobDiva
Zendesk
Bullhorn
ConnectWise
Oracle Netsuite
Sugar CRM
Broadvoice vs Vonage: pricing
Different VoIP providers have unique prices for their services, depending on the size and needs of your business. Ideally, you would want to lean towards the one within your budget. Let's compare the plans on both platforms and what they offer.
Broadvoice plans and pricing
Broadvoice B-hive has four major plan categories—Broadvoice Cloud PBX, Call Paths, SIP Trunking, and Contact Center—based on your business needs. These plans have different packages and pricing.
The Broadvoice Cloud PBX plan has 3 different packages:
Metered–$10/month/user
Standard–$18/month/user
Pro–$23/month/user
Broadvoice Call Paths plan has 2 packages:
Standard–$7/month
Pro–$10/month
Broadvoice SIP Trunking plan also has 2 packages:
Metered trunk–$11/month/user
Unlimited trunk–$17/month/user
They make the Contact Center plans and features available to you on request.
The Broadvoice Cloud PBX Metered Plan is the most affordable, at $10 per user for a month. This plan comes with a few basic features—like call forwarding, mobile app, hot desking, web portal, SMS, domestic calls—and it is okay for small businesses to give it that touch of professionalism.
Standard Plan is the most popular, and it gives you all the features in the Metered Plan and even more features like unlimited calling, local DID, communicator, and no-cost SMS. It goes for $18 per user, billed monthly, and is ideal for medium-sized businesses.
Pro Plan gives you all the features in the Metered and Standard plans, plus integrations, virtual fax, global extension, call recording, call catch, one number, and communicator + video. This plan costs $23 monthly per user.
You can get customizable feature sets for any Broadvoice B-hive plans by requesting a quote. This allows you to get a tailored plan that suits your business. Broadvoice lets you request a demo to get a free trial of their software. Also, you get a 30-day risk-free trial of any plan. This means that you get a full refund if they do not satisfy your needs after 30 days.
Vonage business communications plans and pricing
Vonage offers unique plans and pricing depending on the product you want: communications APIs, unified communications, or contact center. Before you pay for any plan, they will ask you to fill out a form stating a few details about you and your business. This will help them tailor the best plan for you.
For the Communications API Plan, you get free trials of the different packages—up to 14 days—before deciding what works best for you. The plans include:
Voice API
Video API
SMS
Verify API
The Unified Communication Plan has 3 different packages, and their prices depend on the size of your business.
For small-sized companies of 1-4 persons, you have:
Mobile–$19.99/month/line (plus taxes and fees)
Premium–$29.99/month/line (plus taxes and fees)
Advanced–$39.99/month/line (plus taxes and fees)
For medium-scale businesses of about 20-70 persons, you have:
Mobile–$14.99/month/line (plus taxes and fees)
Premium–$24.99/month/line (plus taxes and fees)
Advanced–$34.99/month/line (plus taxes and fees)
For larger corporations and enterprises of about 100 people and more, you'll schedule a call with their sales representatives to figure out what is suitable for you.
With the Contact Center Plan, you can choose between 4 packages.
Express
Essentials
Select
Premium
All of which require you to request a quote before getting a price list.
Staying connected on your phone and desktop devices is possible with the Mobile plans. The Premium plans are the most popular, and they allow you to communicate with your IP desk phones and other mobile devices. With the Advanced plan, you can access additional features that will help you provide more profound customer experiences.
Broadvoice vs Vonage: customer support
Kate Zabriskie once said, "the customer's perception is your reality," and we couldn't agree more. The primary aim of every business should be to satisfy customers rather than just developing software with nice features. We'd all love to get timely help when we face any software, application, or website challenge.
Vonage has extensive resources in FAQs, videos of webinars, and articles to assist you when you encounter a challenge. They also have a chatbot that pops up periodically on their website where you can enquire about their services or resources. Unfortunately, they do not have a customer care call line or email address on their website. We can only hope that the resources are detailed enough to solve your problems.
Besides FAQs, videos, and blog posts, Broadvoice has a live chat feature on the website where you can speak to an expert after filling out a form. They also have a 24/7 live support line and a customer service line available from Mondays to Fridays (6 AM–5 PM PST).
Broadvoice vs Vonage: user reviews
Both tools have good reviews from users and complaints. With satisfying your customers, there is always room for improvement.
Broadvoice Cloud PBX is rated an 8.8 out of 10 on TrustRadius. This rating is based on the reviews from people that have used the software for their businesses. Most users sang praises about the features, integrations, technical support, and ease of use.
There were also a few complaints about in-depth reporting, consistency in call quality, poor connection, and the call recording feature.
The Broadvoice mobile app also has a 2.8-star rating out of 5 on Google Play Store and a 2.1-star rating on Apple App Store.
Vonage did not get as much praise from users on TrustRadius, compared to Broadvoice. It was rated 6.8 out of 10. On top review sites like PCMag, it got a 3.5-star rating out of 5. Most users loved the clear call quality, efficient network connection, simple setup, mobile app, and features like call recording, texting, voicemail, and call diverting. While others didn't have nice things to say about displaying call recording history, customer support, reliance on the existing internet service providers, and spam calls.
Although the mobile app has a 4.6-star rating out of 5 on Google Play Store and a 4.7-star rating on Apple App Store, some users still considered using an alternative instead.
Broadvoice vs Vonage vs Ringblaze
We understand how important it is for you to find the right solution for your business. That is why we have carefully reviewed and compared these tools so you can have a clearer understanding of what to expect.
There are several other business phone system software or VoIP providers out there, and it can be a bit tasking to figure out the best fit for your business.
One of the many alternatives you can consider is Ringblaze. It is an improved phone system that can help you achieve effective sales and customer support collaboration. We take pride in helping you communicate with your team and customers in real-time when they encounter any challenge on your website.
With a 5-star rating on Apple App Store, it's obvious that Ringblaze has won the hearts of many small and medium scale business owners, as some users have even reported an increase in sales and better relationships with customers and their teams.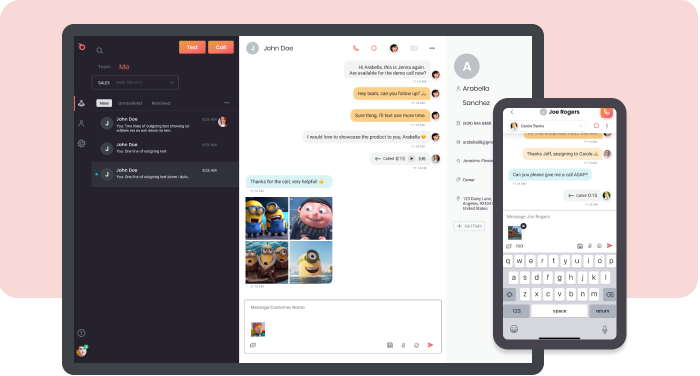 With Ringblaze, you can set up your widget within 15 minutes and start receiving calls almost immediately. Besides outstanding features and stellar reviews from users, it is also affordable and easy to use.
Let's look at how Ringblaze compares to the other business phone systems.
Conclusion: Which business phone system is worth it?
We have given a rundown of what both tools offer you, including their features, pricing, and verified user reviews. If the reviews from other users are anything to go by, we can say that both tools offer features that could be useful to your business.
The ultimate choice of which business phone system to use solely depends on your budget, business size, and what you hope to achieve with the tool. In terms of integrations, Vonage takes the lead. While in terms of pricing, Broadvoice has a lower starting price.
We noticed more complaints about customer support, in-depth reporting, call history, and reliance on an existing service provider from the reviews.
If any of these are a major concern to you, you should consider using Ringblaze. Because not only does it have several device operating system deployments, it also has advanced features and a reliable customer service team that is readily available to assist you via call, email, or chat.
It's a good thing that you can try it for free before making your decision.
Sign up for Ringblaze now and give your customers a taste of what effective communication feels like.
FAQs
What does Broadvoice do?
Broadvoice is a business phone system that provides cloud-based VoIP telecommunications services that enable you to make or receive voice or video calls through an app on your mobile devices or via a broadband internet connection.
What is Vonage used for?
Vonage is a B2B communication solutions provider that provides cloud-based communication features and integrations to make it easier for you to communicate with your team and customers anywhere they are.
Is Vonage free?
No, it is not. It has several plans and packages that come at different prices, depending on what you need for your business. The starting price for some of their plans is $14.99, and you can try out their Communications API plan for free.
What is the alternative to Vonage?
There are several alternatives to Vonage, like Broadvoice, Ringblaze, BasicTalk, and many others. If you are looking for an alternative that comes at an affordable cost, with advanced features and excellent customer support, then you can try out Ringblaze for free.