Customer service is one of the most important factors that help people compare companies they work with. Especially during these hard times generated by the Covid 19 pandemic, many communication tools have become the core of the entire customer engagement process.
Say you have a Digital Marketing company that manages social media accounts. You will surely have to get in touch with your customers monthly in order to provide high-quality services. Small businesses need reliable software applications that are able to offer a handful of features to help them engage customers.

Today we are exploring the top five Flowroute alternatives you should consider trying.
FlowRoute
FlowRoute is a software made for cloud-based communications, connecting customers and small businesses using voice and SMS messages. Using the VoIP (Voice over Internet Protocol) technology, FlowRoute allows business owners to get in touch with their customers through an Internet-based network. The benefits of using such bandwidth include but are not limited to:
Cloud-based communications capabilities
VoIP services security protocols
Text messaging capabilities using mobile apps
Call forwarding functions connecting a complex phone system
An active support team that is always available in the Contact Center
After evaluating over 4 000 IT managers and comparing 29 SIP Trunking software tools, FlowRoute was named 2020 SIP Trunking Software of the Year. During the survey, a set of 12 factors were discussed and included in the user reviews. These key features included reliability, support, billing and installation experience.
What is SIP Trunking?
SIP Trunking is a network-based protocol that allows organizations to stay connected even when interacting from different locations. It is basically a way of making calls using the Internet connection. Many people wonder how SIP Trunking is different from VoIP. Despite the fact that both of them connect people on the web, the latter is a more inclusive term. VoIP stands for Voice over Internet protocol and it lets people communicate using digital solutions based on a pre-defined identity number.
The IP (Internet Protocol) is a way of identifying machines from the entire world. By checking IPs taking part in a video conferencing session you can find out who exactly was connected and identify unwanted users. SIP Trunking is a more specific term, defining a specific protocol enabling VoIP solutions.
How we compare communication tools
When it comes to finding the best FlowRoute alternatives, comparisons have to be as objective as possible. Our experts have been testing each FlowRoute alternative for at least 14 days before coming up with a review. What is more, in order to maintain an equidistant position from all the mentioned FlowRoute competitors, we have also researched plenty of user-based articles available on the Internet. Customers are the target of these alternatives. Therefore, their experiences are the most important ones.
All FlowRoute alternatives have been analyzed using a similar protocol, based on a set of criteria. These factors have a variable influence when it comes to deciding what is the best for your business. The criteria we have used are:
Features
Price / performance ratio
Pricing plans
Reliability
Here you can see the general overview of all the tools we compared:
App
Features
Price /
Performance
ratio
Pricing
Reliability
RingBlaze
Shareable Call Inbox
International Calls
Call Recording
5/5
5/5
5/5
GrassHopper
Analytics
Voice Recognition
Call Forwarding
4/5
4/5
4.5/5
Google Voice
API Integrations
Carrier-grade Voice
4/5
5/5
4.5/5
Skype
Video Conferences
International Calls
4.5/5
4/5
5/5
Phone.com
Call Monitoring
Voice Recognition
4.5/5
4/5
4.5/5
Comparison table
What is more, we have also included business-oriented articles that describe different user experiences. However, we have left out all the personal points of view, as we are only interested in gathering as much relevant information as possible. Some of the articles we have used are:
RingBlaze
RingBlaze is one of the best FlowRoute alternatives available. This software company meets and exceeds all the business requirements your company may have, including carrier-grade voice, cloud-based call recording and conference calling on multiple channels.

Besides these basic functions included in the RingBlaze subscription, it also allows business owners to connect with casual visitors of their platform in real-time. This way you can transform a visitor into an actual customer within a few minutes, just by offering high-quality customer service.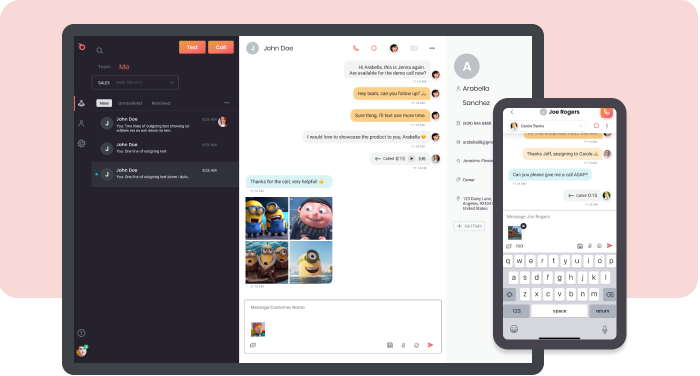 Text messages are also included in the RingBlaze center software, offering you the opportunity to chat with your customers using a text interface. Maybe they do not have the time or the availability to communicate with you via mobile phone. Or they simply prefer sending an SMS instead of giving you a call.
Can be easily deployed in under 15 minutes
Thanks to the highly-skilled support tea, your new and improved RingBlaze system will be available in no time. After beginning the installation process, you will be able to make your first call within less than 15 minutes. Of course, all the features are already up and running when you use the platform for the first time.
Some other interesting features RingBlaze clients enjoy are customized phone numbers, auto attendant to manage calls that are on hold, audio conference capabilities and many other features. What is more, after setting up your system, you gain access immediately to:
24/7 Support (Email and Chat)
Shared Call Inbox and Contact List
International Calls and Call History
Cloud-based Call Recording Features
And many other features
Reliable call forwarding platform for an affordable price
When it comes to choosing the best FlowRoute alternative, one crucial criterion is related to the price of the software tool. Especially if your company is a smaller one (e.g. a startup), you might not be able to invest thousands per year in a complex SIP trunking phone system. However, thanks to the affordable pricing scheme offered by RingBlaze, you can now engage customers without having to pay an arm and a leg.
If you want to learn more about the pricing system used by RingBlaze, we highly recommend checking out the Pricing section on the official website.
RingBlaze vs. FlowRoute
These two VoIP services are quite different despite the fact that they basically serve the same purpose. FlowRoute is a bit more intuitive when it comes to offering training documentation, but RingBlaze users enjoy a simpler and cleaner interface.
To put things in a nutshell, RingBlaze offers a bit more features and a better experience for the same money. Therefore, the Price / Performance ratio inclines the balance towards RingBlaze.
GrassHopper
GrassHopper is one of the oldest organizations competing in the communication market in the world. It is a simple yet reliable software tool, while also being one of the best alternatives to FlowRoute. It includes an auto attendant for your contact center.

Picture this: you have a small company working in the SEO field. Your SEO Audits take around 1 and a half hours and all your employees are currently engaged in conversations. But a new potential customer calls to get a few answers related to your services. What do you think your potential client will do if all the phone numbers on your website are marked as Busy?
However, having an auto-attendant will allow you to keep your (potential) customers up to date with your workflow? Is one of your company's departments currently on leave? Will you have a short vacation within the next 2 weeks? Are you busier than usual? Let your customers know what is going on.
One thing you should take into account if you decide to use GrassHopper is that you will have to deposit $500 in your business account first before being able to access the international calling network. You will instantly get a local phone number after registering and setting up your system but the VoIP services have particular limitations for new customers.
GrassHopper vs. FlowRoute
GrassHopper is one of the top FlowRoute alternatives. Yet, it is intended for business owners who work with up to 50 employees. It also includes an Analytics section that allows you to see interesting statistics about your customers (time spent on the phone, number of orders placed, etc.). Last but not least, GrassHopper also includes a Voice Recognition function. This can be especially useful if you want to automate the entire call forwarding process.
Google Voice
Another interesting FlowRoute alternative is Google Voice. This voice software tool is available worldwide and lets business owners connect with their customers and potential clients. Organizations can enjoy a per-user subscription model. This means that you will only have to pay for the number of employees accessing the platform.
One great thing about Google Voice is related to the amazing number of integrations. Thanks to the Google API, you can now add and synchronize different G Solutions with your communication services. You can either save your appointments in Google Calendar or initiate video conferences using Google Meet. There are many other features integrated in Google Voice that prove to be helpful to users that are familiar with the G Admin Interface.
If you decide to stick to Google Voice then you will be probably happy to hear that you get an unlimited number of free SMS messages. You can send text messages to your clients and do this for literally free. This cloud based tool is especially good for those who enjoy synchronizing their company's workflow and integrating all the solutions in one place.
Google Voice vs. FlowRoute
To start with one of the most important things, Google Voice does not include mobile apps for their phone system. This means that you will have to use the cloud-based interface to manage the phone numbers and enjoy the carrier-grade voice. However, compared to FlowRoute, Google Voice can also include video conferencing features thanks to the Google Meet integration.
Despite the fact that the center software does not have all the wanted functions, there are many tools that can be successfully integrated to fill different gaps. Some of the most popular tools integrated in the phone system are:
Google Drive for file sharing
Google Meet for video calls
Google Calendar for appointment synchronization
Skype
Everyone knows about Skype. This cloud-based VoIP platform offers communication services in the entire world, thanks to an Internet-based network. The features it includes are very popular. Using this platform you can generate a business phone number from 26 international location and chat with your customers.
The software application includes a mobile version that can be successfully used to make reliable and high-quality phone calls via the web. One interesting thing about this FlowRoute alternative is related to the online conferencing feature.

Up to 250 people can be at the same conference and enjoy all the available functions. Location sharing (just like the one in WhatsApp), real time translation and digital whiteboard are just three of the most popular features available to all Skype users.
Skype services have incredibly reliable uptime. During the past years, the platform has registered only a couple of hours of downtime. This is a great thing, considering the large number of users that have been using it intensively, especially during the Covid 19 pandemic.
Skype vs. FlowRoute
To get things straight: Skype is FlowRoute's older brother. It includes many functions that are not available in FlowRoute but are not available for free. The subscription plans have clear and transparent limitations, which is an interesting aspect, especially when looking at the growing number of communication tools that attack the market.
The services come up with a great value for money and it is a good option if you want to connect with your customers using voice, SMS or video on the web.
Phone.com
Phone.com is a tool that was specially designed for small teams working under the same roof. For companies with up to 200 employees, Phone.com comes up with a handful of functions meant to improve your customer services. Besides the most basic features, including SMS and voice calling via VoIP, this digital phone software also includes more advanced functions such as:
Call Center Management
Voice Recognition
Call Monitoring
Shareable Contact Management
Another interesting tool offered by Phone.com is called Reporting / Analytics. This section lets you see how exactly your call center employees perform and gives you a better understanding of how the time your customers spend on the phone translates to orders.
Phone.com vs FlowRoute
Phone.com is a more complex software compared to FlowRoute. It also offers better support services, with 24/7 availability and different contact methods. The Voice Recognition function opens up new paths for IT managers to explore in matters of customer experience. Last but not least, Phone.com offers a handful of customizable features such as caller menus, custom greetings and hold music.
Conclusion
To put everything in a nutshell, there are plenty of mobile apps offering similar functions to FlowRoute. However, choosing the one that works best for your company depends on a large number of factors. Therefore, before actually making a decision, you might want to try things out and look out for free trials and demos of the tools you are interested in.
RingBlaze is a great option if you are looking for a powerful tool to manage your customer experience with. Besides offering solutions for all kinds of businesses, RingBlaze also comes up with an impressive list of features. Before making up your mind about what tool to choose for your company, we highly recommend trying out this tool for free.

If you want to try a VoIP provider, consider Ringblaze. Give it a go by clicking here. It is 100% free to try!

Originally published on October 12, 2021. Updated April 20, 2022.