Running a business is not easy, and doing everything among keeping track of your customer service can be quite exhausting. Running a successful business largely depends on the customer experience you provide.
This is why customer service is one of the most important aspects of a business. If you have outstanding customer service, you have outstanding customer experiences.
We see numerous tools developed every day to improve customer experience. Even as customers, we come across chatbots, website integrated features, all sorts of AI-driven software that only simulates human responses.
With all the above, a phone call is still an unbeatable method in customer service. It's fast, easy, and it gets the job done. Plus, people like speaking with other people.
There are a lot of phone solutions on the market as well, and it can take a while to make the right decision.
So, let's first discuss the different phone system options for businesses.
Phone System Options for Small Businesses
More and more businesses are opting for VoIP (voice over internet protocol) phone systems rather than landlines. And it seems quite relevant.
The main advantage of a VoIP phone system over a landline is the cost. They are much cheaper than an average landline service provider.
Another major advantage of VoIP phones is that there's much less hardware involved than with a landline. It's okay if you prefer doing things the old-school way, and it's alright for a small-scale business to have a landline for customer service and business communication.
But, VoIP phones have everything that a regular landline has, and more. For call recording on landlines, you'd have to purchase additional hardware, and there are limited options when it comes to call monitoring, there is also no advanced call analytics.
You will need all those features if you're running an international business or at least planning to. International charges for landlines can cost a lot, and they are usually not included in a standard landline plan.
Most VoIP providers offer unlimited interstate calling within the U.S., and a huge plus is that there are unlimited calls to Canada as well. They also charge for international calls, but they usually offer a flat rate for a certain number.
If you take everything into account, VoIP services are more affordable than landline services. And there is no doubt that they can work better for businesses of any scale.
That's why we decided to make a comparison between some great solutions for businesses such as Talkdesk, RingCentral and Ooma. Also, feel free to check out other VoIP alternatives. Let's try to make your decision easier.
Why Choose Talkdesk?
Talkdesk provides customer service solutions since 2011. They promise affordable pricing, customer satisfaction and exceptional customer service.
Talkdesk is a VoIP solution for businesses. It's one of the cloud contact center solutions providing integrations with other software.
Such a system works well if you start from a small business and plan to scale quite fast. The adaptability Talkdesk has, means that they offer some features you can add when your business starts to grow.
They also provide analytics and insights into your customer engagement and satisfaction. It's a comprehensive software that is easy to use or as their website states, easy to deploy.
It can be a great choice for the up and coming business because of different capabilities:
Customer engagement: voice, automatic call distribution, interactive voice response, outbound calling, omnichannel (text, email, phone) and self-service.
Workforce engagement: agent desktop, mobile agents, workforce management, quality management and call recording.
Integrations: with Salesforce, Zendesk, ServiceNow, Microsoft Dynamics, Slack, Zoom, Microsoft Teams, etc.
Reporting and analytics: dashboards, business intelligence, speech analytics and surveys.
AI and knowledge: agent assist, virtual agent and knowledge base (guide).
Enterprise collaboration: phone messaging.
Talkdesk also offers business transformation services. These include customer experience strategies, enablement and success.
With all these features, you might want to choose Talkdesk when it comes to expanding your customer service management.
So, who are the main Talkdesk competitors?
RingCentral vs Talkdesk Review
Both VoIP solutions have their strength and weaknesses. Let's compare them side-by-side to see their benefits and their disadvantages.
Team collaboration is one of the most important aspects of maintaining an admirable number of satisfied customers.
RingCentral provides a platform that has calling, messaging and even video options for collaboration. Talkdesk doesn't have messaging, but they do have integrations that allow collaboration.
By the way, we have taken collaboration into serious consideration when we developed our solution – Ringblaze. That's why we offer a dashboard within all plans, even the most basic ones because we believe that it's key to customer satisfaction.
Most contact centers work through call routing. Talkdesk and RingCentral have automatic call distribution and interactive voice response that you can set up easily. And with their features, you can always reinvent interactive voice response to get ahead.
When it comes to optimizing the workforce Talkdesk has workforce management features, but you need to pay a little extra for those. It's more or less the same with RingCentral, the only difference is that you have two plans that include them.
It's a little tricky to compare the pricing of these two VoIP providers. For Talkdesk pricing, you need to request a quote in order to see the prices. RingCentral's essential plan starts at $19.99 and it only supports up to 20 users.
Finally, let's see how they fare in communication using various media. Omnichannel communication is a strategy that businesses use so that their customers can reach them through various channels.
Both providers have great omnichannel functions, but RingCentral has integrated this kind of communication before Talkdesk which doesn't necessarily mean that it is better.
Also, it's important to speak about Talkdesk extensions. You have the ability to set up extensions on phone numbers easily. With the extensions, the customers can directly contact the agent they were talking to earlier.
Overall, both solutions have quite a standard set of features and integrations. It's a little tricky to decide before we discuss how well Talkdesk competitors fare with other alternatives.
Ooma vs Talkdesk Review
These two providers have some crucial differences. The pricing for Ooma Office starts from $19.95 per user per month. Ooma includes a free trial in it's plans. Talkdesk offers a tailored experience and a quote according to your needs.
Ooma is suitable for small to medium sized businesses because it supports up to 500 users. Talkdesk is appropriate for any business size.
One of the major differences is that Ooma is not supported by Linux. Whereas Talkdesk is supported by Linux, but they both lack Chromebook (Linux-based operating system) support.
Also, Talkdesk provides in-person training and they have a live online support solution for businesses that want to get accustomed to their software. These are in addition to what Ooma's offering with their webinars, documentation and video trainings.
As for the customer support, the only advantage of Talkdesk is that they have their own knowledge base with frequently asked questions that might resolve any inquiry someone using the system has. Ooma has a forum and a 24/7 live representative.
RingCentral vs Ooma Review
The size of the business is very important when picking the right solution. Ooma is great for small-sized businesses that need a quality and affordable business service. On the other hand, RingCentral, same as Talkdesk, can support any scale of business.
RingCentral pricing plans start from $19.99 per month per user, while Ooma is only $0.05 cheaper. Plus, there's no free trial with Ooma.
Ooma VoIP phones are easy to set up, but so are RingCentral IP phones. Plus, RingCentral offers a virtual call center, it's more software-based.
Both of these have call forwarding features. With Ooma, you can set it up using the phone app, but RingCentral forwards calls through an ACD (automatic call distributor), plus you can adjust it at any time in the software settings.
RingCentral toll-free numbers, the ones that you can call free-of-charge are included in different plans. It's similar to Ooma virtual numbers that can be local or toll-free.
Ooma toll-free numbers cost $9.95 a month each, and the limit is 20 toll-free numbers. On the other hand, RingCentral includes toll-free numbers in all its plans. It's a large difference when you have included toll-free numbers in all the plans.
This is the point where RingCentral takes the lead. Saving money on things such as toll-free numbers is an effective budget solution.
Ooma collaboration features are limited to video conferencing while RingCentral has advanced solutions for this.
Team collaboration is extremely important in customer service. That's why RingCentral Meetings gives larger businesses the ability to send messages within the team, have online meetings, video conferencing, mobile screen-sharing and manage tasks.
Although Ooma only has video conferencing, it is suitable for a small business, everything can get handled immediately and with ease through a conference.
When it comes to unwanted calls RingCentral and Ooma call blocking can be set up with three clicks of a button. You wouldn't like telemarketers calling your contact center.
After all, the agents need to focus on customer satisfaction, they don't need to buy things while providing excellent service.
Comparison Summary
Talkdesk competitors Ooma and RingCentral are suitable for different types of businesses. Although they have similar functionality, Ooma is better for small-scale businesses as it doesn't contain advanced call management features.
RingCentral can be suitable for any business scale, it's similar to Talkdesk both in pricing and the scalability they offer. The only downside is that we can't compare the pricing of RingCentral and Talkdesk.
RingCentral texting, emailing and chatbots are all available on the platform because they've been on that terrain for a long period of time. Talkdesk isn't far behind, and it can be a better solution for a smaller business because of omnichannel communication.
Ooma can be considered as a choice for small businesses as it is quite affordable. It lacks advanced call management features, but it is worth a try.
Final Thoughts
Although all three solutions pose as credible and good ones for different business types, there are other similar solutions on the market.
These three don't differ in price a lot. Talkdesk can be very adaptable and it grows with your business. RingCentral provides more features and you can specify the number of employees and get the real quote. Finally, Ooma seems like a solution created for small businesses.
We spent countless hours perfecting the right solution for you. If you want to get ahead in your business and have an affordable contact center solution, give Ringblaze a try.
Ringblaze offers the dashboard in all of its plans. With it, the collaboration will be a piece of cake. Also, you can use it to assign, forward and record calls for quality assurance. One of the best things is a 'click-to-call' widget that is added to your website.
This way customers can give you a call while they are browsing your website in real time. The best thing is that you can add that button anywhere. The calls are free from anywhere in the world.
Ringblaze is more affordable than any other similar tool, and you can open tickets for your customers and put down anything to follow the resolution progress. The greatest attribute is that it comes at one price with no surprises.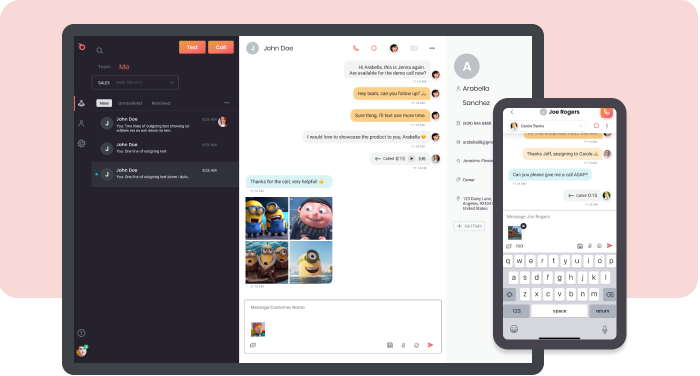 Give us a try or request a demo with me! Make sure to make the right choice for your business.